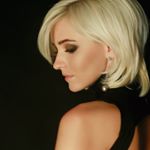 "World Class Fashion is both for the Ordinary and the Extra Ordinary…" says International Costume and Fashion Designer – Viktoriia Vlasenko.
Viktoriia knows exactly what she is talking about as she has designed for various industries such as in film, theatre and even for a few music videos.
Having started her extensive career when she was just eight years old, she started to make waves when her brother wore one of her creative designs to his graduation.
As we all know, we tend to dress based on our own personality, and many times we can easily identify a performing artist as they tend to wear much more flamboyant artsy looking clothing.
However those who are much more conservative in personality tend to also reflect this in their wear.
Having participated in the Swiss Textiles Awards, which was also televised across Milan, there was a challenge given to this International Designer – Viktoriia Vlasenko and her brand Terrasse Fashion, to create fashion for the lowly position of a painter and the work of such a creative. Honing in on her Ukrainian heritage as well, she was inspired by a painter.
Branding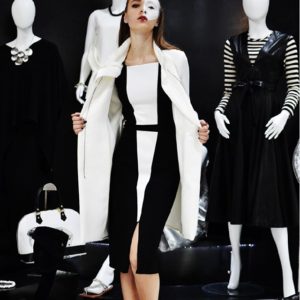 Terrasse Fashion Brand
"You can design, create and build the most wonderful things in the world…"
The Terrasse Fashion Brand easily does this in the production of clothing such as jackets, dresses, coats and cardigans just to name a few.
This is primarily for the ordinary person who still wants to add a bit of flair to their wardrobe. Let's call it a subtle hint of sophistication.
Viktoriia has also found there to be a significant demand requesting her to create for those with peculiar tastes. It is the thought of enjoying a bit of luxury in wearing top-quality Italian fabric.
At either end of the spectrum, her clients – predominantly business ladies – show the poignant characteristics of confidence and success in their careers. It is this type of classy fashion that adds a significant boost to the person wearing these outfits.
Often times some select projects and clients call for a spurt of creative inspiration. Along with fine fabrics there can be incorporated in design metals from precious to semi-precious as well as ordinary things such as plastics and even paints.
Sometimes it may be difficult but the film industry stretches the imagination beyond the ordinary.
Just imagine that your favorite super hero is wearing a Terrasse Design.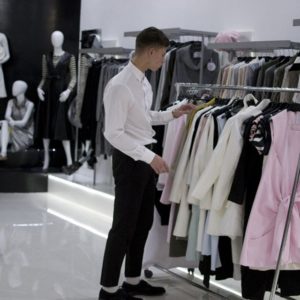 The Business
Terrasse is also a business – in fact Los Angeles based Viktoriia has not just one store, but six store front fashion outlets for those who seek exquisitely designed fashion, as well as her strong online presence.
Furthermore, she says she has only just gotten started, and we surely believe her…
Of course, it can't be easy to juggle the business of operating these stores and being a fashion creative.
This is where a little help from her mother comes in especially when there is the opening of a collection or the final delivery for a fashion runway.
This little help comes in handy to maintain the fantastic reputation of the Terrasse as they deal with the various celebrities for the red carpet or for theatre and film productions.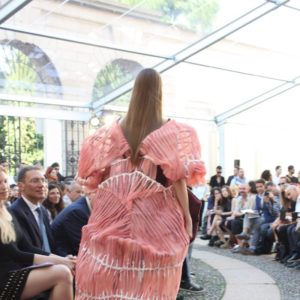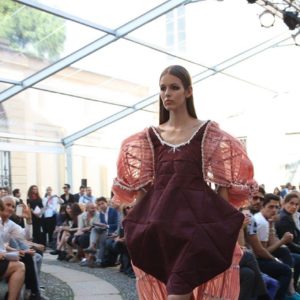 This brand has its strong foundation with Viktoriia's being a university graduate.
In fact just about three years ago in 2015, Viktoriia's presence was very strong and well represented in the Fashion Show – New Talents Vogue Milan for young designers.
Costume Design
What we see in the images and wear of those in film and their characters must be designed by someone. Just think about it…
The design and application of costuming is very important to film, as it also adds to the story and development of the characters involved. Consider the villain or the hero, the film epoch and even the genre. A historical costume is very important for a historical film.
For a fiction genre, for instance, the superhero costume is important and that is now in high demand and popular today. For instance, my film with my costumes, being currently produced, is a fiction film with monsters and superheroes.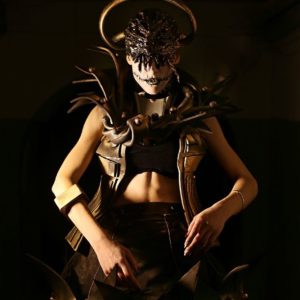 "The Unworld film is shooting with my costumes. This is an urban fantasy film with action and comedy elements. This film is about the technologies, which are fighting against the antiquity monsters. The viewer will see that the power of digital technologies is capable to bring down the established order and how the people come together to stand up to this power.
"This film also is about the simple human feelings that make us happy…."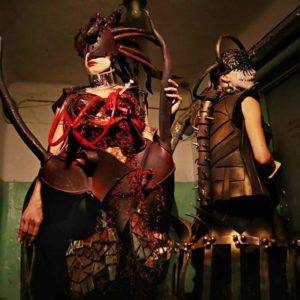 Additionally there is the thrill to create and work with absolutely new materials as well as the demand to produce something new. This adds the edge of making what seems impossible a possibility, and lends to charting new paths in design.
The drive to develop for music videos, or even fairy-tale and fiction gives a significant platform to prove the strength of my creativity and brand.
Along with this, working with various materials that many others are afraid to even consider as well as being a good painter, makes my clients happy.
This brings the uniqueness that you need to have in order to remain relevant. This also ensures that the budgets are met and cost is contained. Tell me which client wouldn't like that…
The Creative Process…
The creative process for each person will be different, and it is also important to also focus on the end point. Therefore having the end point in mind, then we work backwards to our starting point. It is important to learn the character(s) and the motive of the film or production.
This means research as well as relevance to the production, this goes along with the selection of suitable fabrics and materials and continuous engagement with the project's creative director.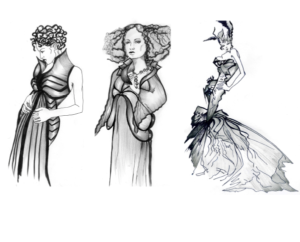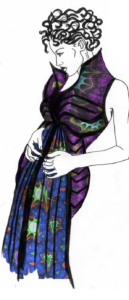 You must absolutely like and enjoy what you do, and be willing to learn something new even as you develop your own work through to delivery.
This adds further value to the entire project, since there will of course be those frustrating days then you also will have those fantastic days where everything goes great.

2017 was… Alice in Wonderland
Just in 2017 for example, while working on the theatre production, Alice in Wonderland as costume designer, costumes were done for Philharmonic Orchestra with Chamber Choir, and in collaboration with Director Dmytro Obednikov. I did the creations for the cast such that those who also sat in the audience could feel the creative spirit of the piece, as it was delivered on-stage.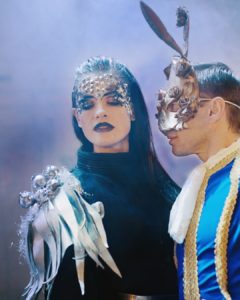 Designing for the 50 person cast had the Viktoriaa flair which we mentioned earlier, and ideally as we moved around the Ukraine, we had pieces which were also cardinally classic pieces stylistically done as well. This had to be paired with the genres of jazz music which was also delivered in English.
One major criterion was that the chamber choir was involved in the performance and the design had to appeal to audiences sitting quite a distance away in the auditorium.
Olga Pechko – in Concert (2018)
Olga Pechko saw my forged iron dummies as garments for her show (since she was looking for who made it), could see my works as a costume designer and asked to make costumes for her show.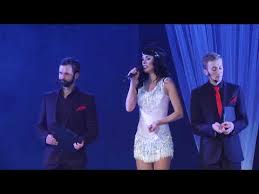 Further to this Olga asked me to design her costume to suit each song which she was performed to ensure that the imagery was well delivered.
For example, we had varied musical genres from styles which had to reflect romance pieces to rock and everything in-between.
Remember the use of metals which we spoke about earlier, well here – we had costume pieces which made use of metals in the outfit.
Film – Loose Ends
We also asked Viktoriaa to tell us a little bit on the film which she worked on called "Loose Ends". In this film the life of a human can change based on what they want to do and achieve.
Furthermore it was light hearted as well as a comedy, and it won Best Comedy in 2016 at the Hollywood Boulevard Film Festival.
In this film, Viktoriia told us that her work was quite simple however it required some research in order to drive her inspiration as well as to create for the main characters in the film. This one actually took the need to watch those who were vagrants and primarily homeless and even the prisoner's outfits – their behavioral patterns and how they got on in Los Angeles.
This also an eye-opener as she learnt the ways and means of those in our society.
Simplicity was indeed one of the main secrets to this film's success.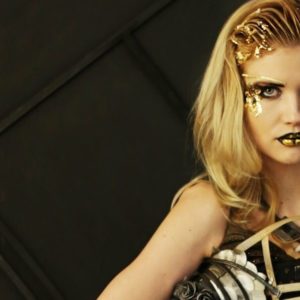 Urban Fantasy Film
We had with the assistance of Viktoriaa to imagine the development of an urban fantasy film which is the primary storyline in the film "All Lives Matter".
This Unworld film is shooting with Viktoriaa's costumes, and has significant action and comedy elements included as well. As the fight between the technological groups and the antiquity monsters evolve, the viewer sees the power of digital technology bringing down the established order.
It also shows how people can come together to stand up against discrimination, and the status quo, but more humanistic in the film touching us as humans.
This is the type of creativity which Viktoriaa also enjoys, and we will see how it responds as it comes out of production into screening.
Since it is a work of fiction, the inspiration which this featured costume designer had to consider was believe it or not, super-heroes and monsters, in order to design and create for the main characters.
The most exciting bit which was shared with us is that since it is a new work so too Viktoriia had creative license to design the masks for the costumes and the monsters. This added to it being one of her favorites.
Of course everyone knows that the designing bit is the glamorous side – however the other end of the sick is to transport and deliver on site. Not everyone knows how to move art, and when you really look at it – the costume is a form of art.
Viktoriia is confident of her work and this is seen in her delivery on screen as we anticipate the respective awards will also come as a result of fantastic costuming. Further to this is her creative way of mixing costumes and designs of the past with the future.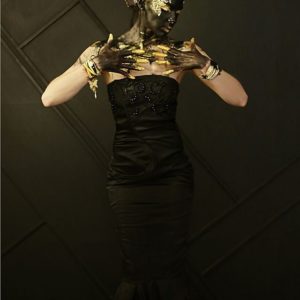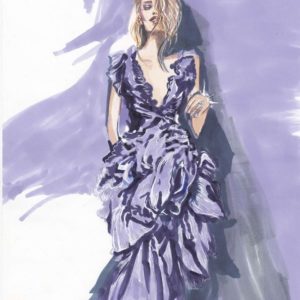 Just a look through her collections and designs, will show you how World Class is really done…
---