While fine lines and wrinkles are a normal part of aging,they normally make the skin to appear tired.This is a significant cosmetic issue for most women. These few tips will guide and discuss 3 MAJOR tips we as women should use to handle wrinkles and face lines.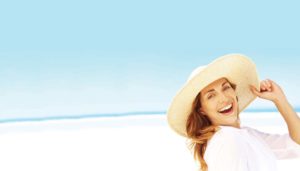 1.SKIN-SMOOTHING REGIME.
At fine lines stage, you should not use super strong wrinkle treatments. This is an absolute rule… You should instead use ingredients that will nourish, balance and maintain the moisture of your skin.
These ingredients include the following:
•Soy Extract – This beats dehydration,smooths out fine lines and locks in moisture…Genistein, a natural plant-hormone in soya, has been found to boost the production of collagen, the protein which gives skin its strength and elasticity that depletes with age.
•Papaya – Refines the surface of the skin consequently making the skin to soften… This fruit is very beneficial for the skin and may contain such enzymes, which treat skin irritation and/or sunburn. Consider this – papaya also helps fight free radicals that cause aging and wrinkles
•
Extract of wheat germ
– Beating inflammation…This is a key cause of early wrinkles, however using wheat germ extract – can thereby act in calming the skin. In
cosmetics
, this ingredient functions as a skin-softening and hair-conditioning agent. Since it is a plant extract it is also a source of the protein gluten…
•Goji berries – They contain antioxidant benefits that prevent face lines from developing to wrinkles. One added benefit of using this on our skin is that it is also high in anti-oxidants.
Important Caveat:
These ingredients should not be used all at once.This is because the skin will not have enough time to adapt and therefore using all at once will cause irritation and make the lines to stand out.
The day cream should hydrate your skin and protect it from ultra violet rays of the sun. The night creams should be rich in ingredients that stimulate renewal of cells.(Our skin repairs and renews at night.)
2. MAKE-UP RULES.
A thin layer of primer should always be used before foundation.It smooths the skin and fills out fine lines.It is also appropriate to choose a light make up over a thick one. Also avoid heavy foundations because they settle in lines, which makes them more noticeable. Therefore opt for a luminous foundation because it skims over imperfections and also allows the skin to breathe.
Cream should be used over powder because it gives a glowy look which does not draw attention to fine lines on the cheeks.
3.TREAT YOURSELF.
An oxygen facial will feed your skin with anti-aging serums, hyaluronic acid and of course pure oxygen.This will make the skin become supple and also glow, just what we want! Include a Vitamin-C facial and it will brighten the skin and fight fine lines.
Cosmetic concerns? That will be a thing of the past when we start to follow the above tips.They help us handle fine lines and wrinkles in one of the best way possible….Naturally!