After Beach Care For Your Skin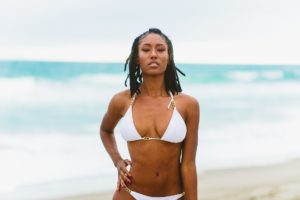 Those of us from the Caribbean can say that we certainly enjoy frequent trips to those pristine beaches, that surround our respective islands. In Antigua for example we know that we have a choice between 365 beaches or one for each day of the year, while in Jamaica – Montego Bay is a major tourist spot. Being in the water is idyllic whether we do paddling, an easy snorkel or simply a casual swim to aid in relaxation. While we may enjoy the water, the after effect however on our skin can be significant. Further-more, for those persons who visit the Caribbean on a little bit of get-away holiday or if you are visiting soon, it is important to take in a bit of skin care especially after a swim at the beach.
After Sun Body Moisturizer
Hey, we know that going to the beach means letting your hair down and enjoying the sun and feeling the cool breezes. However if you've just had a nice swim, as soon as you are finished you should be sure to shower and eliminate as much of the salty water residue from your skin. This should be quickly followed up with an "After-Sun" Body Moisturizer. Just as applying sun-screen before and during the beach experience is important, so too is the application of an after-sun moisturizer, even if its a cloudy day. This after-sun moisturizer is equally important because it soothes and re-hydrates the skin. In other words – it'll also help to keep some of those pesky wrinkles away as well.
Drink Water
The salt water in conjunction with the sun can be drying and harsh to your skin. Therefore you need to Hydrate! Hydrate! Hydrate! It just makes sense. For the effective functioning of the tissues, cells, skin and other organs water is essential.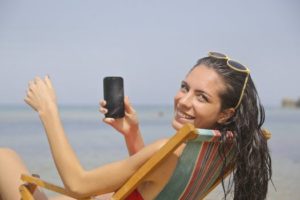 That said then, the skin just like any other body organ is made up of cells and tissues that require water for their proper
functioning. After leaving the beach or having a swim, the maintenance the of skin moisture becomes your primary focus. Water conveys to the skin cells essential nutrients that are responsible for maintaining optimum skin moisture. This helps to prevent wrinkles which can also be a sign of aging. The water also keeps your skin supple.
Exfoliate
Skin can get very dull and ashy after the beach primarily due to the salt water. Using a hydrating body scrub in the shower after a beach day will remove any dead skin cells and polish your skin leaving it smooth and radiant. Failing to do this can leave the build-up of dead skin cells. This bit of excess can eventually result in excess oil and clogging of the pores, and the conditions become ideal for skin blemishes and acne.
This process can leave your skin looking fresh and also create that healthy appearance. The added benefit is that it increases blood circulation to the surface and overall the skin glows as well. Those of us who may have sensitive skin, should therefore probably take it easy on the type of scrub which we use. The selection of a mild scrub or gentle exfoliate can lend to some benefit on sensitive skin and lesser irritation.