Photo credit: beautyglimpse.com
This may be a strange question for those who may be unfamiliar with the technique. However, one of the easiest ways to get yourself a facial is to simply place a snail onto your face, and let it take its time and glide across your skin. As this snail glides along, it acts to eat up the dead skin cells. It is also touted to open your pores and supports your skin with collagen replenishing.
It is believed that this therapy has been originated to ancient Greece, where back then – the snails were crushed and then used as part of cure or treatment for skin lesions. Some countries where this has also taken off include the exotic France and Italy as well as in Asian country of Thailand or the Latin American Chile.
---
The various clay masks have become very popular when it comes to facial treatments, but the snail facial is still seen as revolutionary, and that has impacted a lot in the world of beauty aesthetics. As it has become the favorite facial in many, this is due to the great benefits it is touted as offering to the health of your skin.
This snail facial is capable of providing benefits to your skin cells.
That is the reason why a few beauty brands have incorporated this type of facial into their products. Lets take a look at a little summary about the benefits that the snail mask brings you, should you try it – and, that is where you can ask yourself the question: Would you try these slimy snail facial?
---
Benefits of Slimy Snail Facial
One of the great benefits, is that any facial spots you may have on your face will fade or even disappear as you use this facial technique. There is a chemical compound allantoin, which is touted as being found in this treatment. Just for the record – allantoin is used to help in the pharmaceutical industry to treat dry or scaly itchy skin, and even things such as diaper rash. It can also be used to treat minor sunburn and other minor irritations and even acne
On the other hand, snail slime can help you regenerate the epidermis. Since it stimulates the tissues that repair injuries, burns, or irritations. Another important reason to use this beauty treatment is that its peeling effect eliminates dead cells. Note that those dead skin cells do not let the pores breathe, causing pimples, spots or blackheads.
---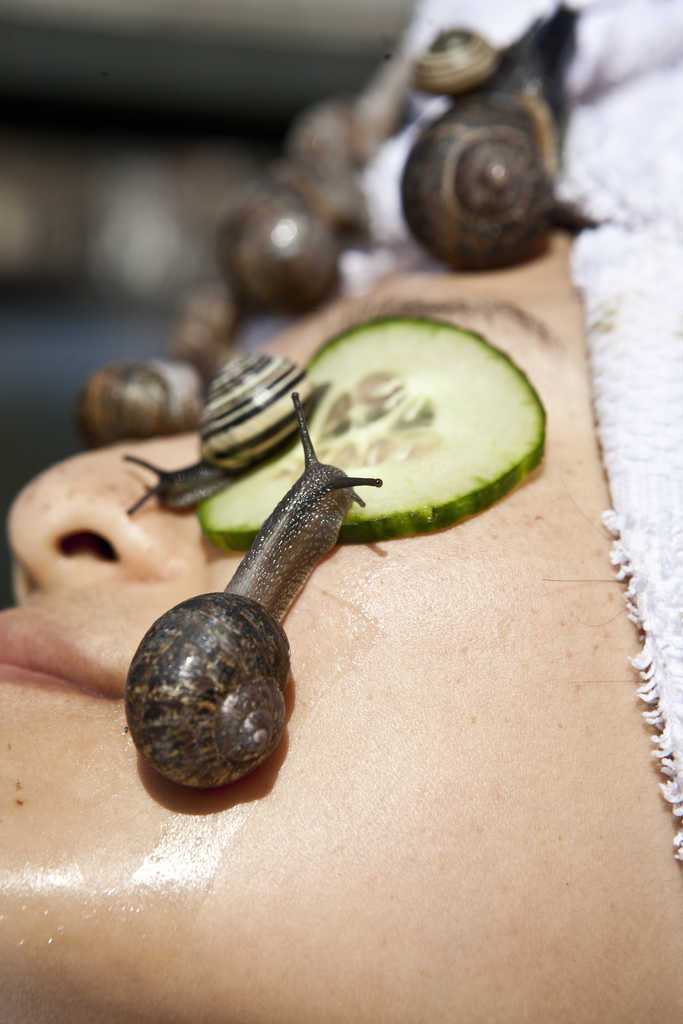 Have a healthier look on your skin with this facial
The Snail facial treatments have been shown to give your skin a better look and also improve its overall health in just a few weeks.
Some even tout its benefits of helping to eliminate expression lines that appear with age. Thanks to the antioxidants they eliminate sagging and firm up your skin in the areas where this problem is seen.
Included in Skin Care Products
Additionally as the snail slim is used in various creams and masks, one of the best things is to use the full treatment for optimum benefit. IF the snail slime is included in over the counter skin care products, then we recommend that you buy certified and quality products. This is important since there are imitations on the market that can damage your skin.
You can look out for snail slim in a variety of products, from soaps to lotions, you must apply it to your face after it has been washed, leave it for 15 minutes. In the case of creams, it is better to use them at night so that the skin regenerates while you sleep. In the case of slimy snail facial, they work better in a short time and they should be rinsed with warm water.
---