So, ladies with all of the trauma currently going on in the world, we deserve a much-needed mental health break do you agree. Let's chat about something REAL going on with my single sisters out there: Social Distancing and New Love.  
Ladies you know what I am talking about as soon as you have met that guy you were eyeing for weeks here come quarantine.  Ok I'm not trying to make it harder for us gals who are still in search of the one, but can we at least share some helpful tips for keeping the new flame lit while being socially responsible and keeping healthy.  
Tip 1:
If you have never read the book or watched the movie this is the perfect time to implement the 90-day rule. OK maybe we are "cheating a bit" but still can I get some love from the ladies who understand this rule is not the easiest to follow. Ok for those of us still living under a rock, let me remind you. Hint hint- Steve Harvey's Book "Act Like a Lady Think Like a Man".
The 90-day rule which doesn't allow you to give up the cookie until he has proven that he can put in at least 90 days. So, let's think this one out. Spend some time now, with no possible chance of intimacy due to quarantine getting to know his short-term goals and long-term goals should be easier. Hey I know it sounds a bit like a job interview, but aren't you looking for a keeper. In any case it will keep you from the 5th journey from the couch to the refrigerator in two hours. 
Tip 2: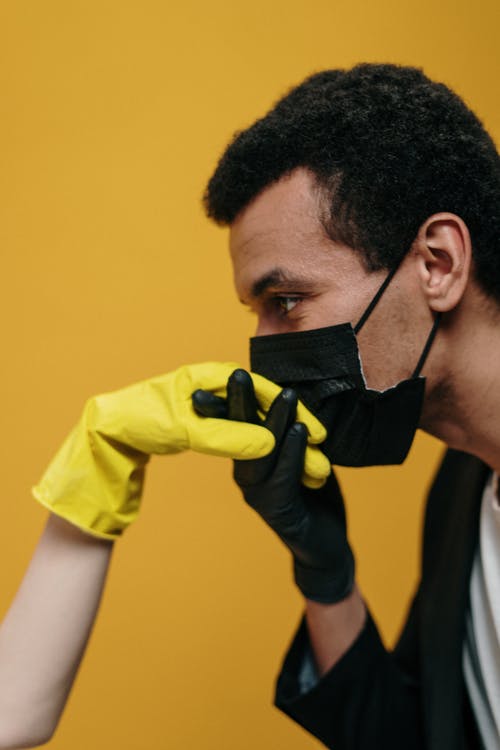 Exercise. Go to the back of the closet especially after you just spent the first week of quarantine having your own episode of Tidying up with Marie Kondo. Oh yes, we know that you held that little black dress close to you and asked does this bring me joy? Of course, 10 years and 15 pounds ago. But still you can't find the strength to let it go, so you hung it up, way in the back of the closet and said by summer I will get back into this dress. So, if your new love has to wait to see you again in person, why not make it worth the wait.
Use the time to get in shape. Countless online classes and workouts are at your disposal, get moving and get in shape.
Tip 3:
Practice self-care and good hygiene. Ok with the current world-wide situation this may be an understatement. However now is the perfect time to set a dedicated self-care routine each day to pamper yourself. Let us keep the skin soft and supple. Take a day to wash and maintain your hair. Get your daily dose of vitamins and drink lots of water. Indulge yourself at the end of the week with a much-needed bath or long shower. 
Don't forget that perfume that makes you feel oh so right. And yes sanitize, sanitize, sanitize. He should be impressed with your ability to be sexy and safe simultaneously. 
Tip 4:
Care for a pet or a plant. So, by the time the restrictions have been lifted we don't want to be stir crazy. After all you spent all this time getting to know him via every social media platform, online dates and late-night texting. Let's not scare him off ladies, talking about how you almost lost your mind with curfew and mass media updates. Use the time to care for your pet or plant so that you have another living being to show affection to. Avoid jumping on him like a bat out of hell.
Give him the change to take in all the upgrades he missed in person.
Tip 5:
Think and plan for the date night you have been anticipating for weeks. Now don't go overboard, this is just the night that will rekindle the fire which was started when you first met. It's like playing together in the sand box for the first time. Maybe you like the see-saw and he enjoys the monkey bars, however what you need is a common ground.
Go someplace where you both can enjoy, still respecting the much-needed social distancing guidelines. You might even get to wear that little black dress that you have worked so hard to get back into. I'm sure he would appreciate it.
Hope these tips bring you some joy and a much-needed distraction at this time. Stay safe and be well…
Love, Iania