Author: J Milnre
In today's modern era, high heels have gotten a lot of attention, be it for the youth or in fact for any age.  We all know today that age is no bar in wearing the high heels. Who doesn't like a high heel challenge? Of course every now and then, all of us know the real thing.
Quite a few of the celebrities are most often seen flaunting the high heel fashion with the new outfit ideas. Some which make them look much glamorous, others well lets try that again… Moreover, this showcases a fashion statement. If you are wearing an awesome outfit, but you do not have any idea of how to pick up the right pair of shoes, then you can gain a total "miss" on the fashion scene.
We'd all like a "hit"!
You could possibly devalue your overall attire which would end up being a loss in many ways.
So, its all about creating a sense of fashion in one's mind of how to flaunt a particular dress with a damn perfect pair of shoe, be it high heels, sandals, boots or stilettos. Whatever it is, it has to be just perfect. It is seen that nowadays many of our celebrities have become fashion icons for today's youth. I'm sure that you can think of at least two right now… After all they are following the footsteps on which their favorite stars are going on.
Likewise, we can see rocking fashion trends set up by many Indian fashionistas who have turned designers as well. Sonam Kapoor has become well known for her fashion style statement, and indeed that is much more to talk about. So, in the actual way these guys are ruling the platform. College students follow the latest trends that they come to know from the latest movies released or from the movie promotions.
It's just a shoe or is it? The heels still make a big difference indeed. Be it for daily routine employees, college students, or party wearers; High heels are very much a thing to go for, and our ladies can appreciate this. These can go for casual or a formal look. The choice is all ours, how we opt for.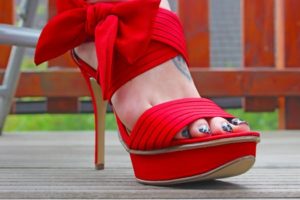 For a party wear dress, the high heels do wonders; you look glamorous wearing them. A party cannot be a party without high heels in a girl's feet. High heels are a basic necessity for every girl nowadays. Her wardrobe would not be complete without having nice heels.
A girl looks not only stylish in a new pair of heels, but that one thing especially, it brings about a great difference and confidence in her. She psychologically presents herself in such a manner that she is someone, who can go for a purpose.
Sometimes that is the significance of the outfit…
We have read in the stories since childhood, that it was just a pair of heels that completely changed the life of Cinderella. So, what we can say is that heels are a girl's best friend who makes her smile all the way. Although these are sometimes difficult to wear and they pinch a lot, but even then…
A girl would never say "No" to the high heels.