Article by Anne Jeep
---
Putting on the wrong bra can ruin or end up disrupting your incredible day. Fortunately, measuring yourself for the right size of bra is relatively easy. You can't ignore the comfort that comes with a well-fitting bra. In addition, it makes you look good and feel healthier.
Wearing the wrong bra that is probably too small or too large can lead to skin irritation, back pain, and discomfort. Here are tips on choosing the right bra.
---
Measure Your Bra Size
The size of your bra can constantly change with time; thus, you should ensure you are up to date with your current size. Hormonal fluctuations caused by breastfeeding, pregnancy, or menopause, as well as weight change, can lead to size adjustment. To measure your current bra size, take a flexible cloth and use it to measure two areas; around the fullest part of your breast and below the breasts around your rib cage.
The initial figure represents your cap size, and the second number shows your band size.
Every inch above the band size equates to one dimension. However, you can also request a salesperson in the department store to measure your size. Although, having baseline numbers before your purchase is a great idea.
---
Finding Your Bust Size
Take a measuring tape, wrap it around your back, and measure your breasts at the nipple. Ensure you note down this measurement

Ensure you measure your breast on a day that you feel normal since your breast is likely to adjust due to bloating and hormones

If you are concerned about posture, you should bend forward to a 90-degree angle at the hips. Another way is bending until the body forms an L-shape before measuring your bust

If your measuring is a fraction, round off to the nearest whole number

Ensure your measuring tape doesn't angle up from the back towards the nipples. It should be straight across your back

Every woman possesses a breast that is bigger than the other. Thus you need to measure from the larger breast
---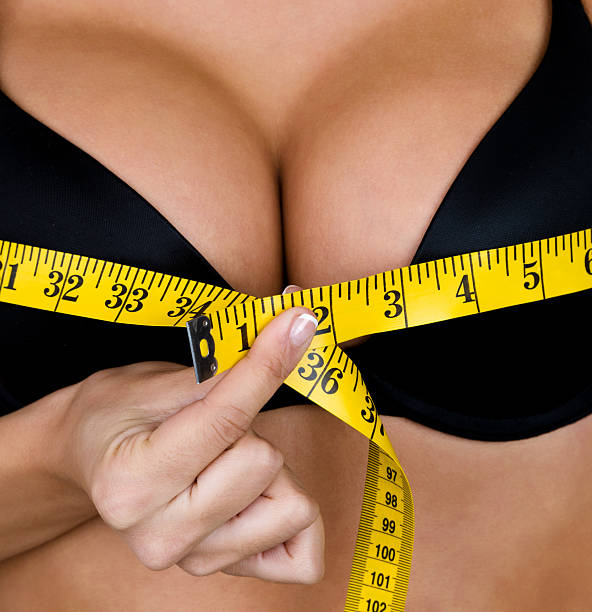 Try The Bra on A Proper Manner
If you want to select the right bra, you have to try it the right way. Lean halfway forward, scoop your breast into the cups, and fasten the back. While standing up, adjust the straps to ensure that your breast is in the correct position.
Check Any Key Fits Concerns
Never choose a bra that allows boob spillage above the cup; this means the cup is too small.
If the cup is too large, you will experience gapping. Bras that have straps sliding down or digging into your shoulders are not recommended. In addition, a bra should not cause skin bulging at the edge or pinching at the back.
Always choose a bra that you can comfortably adjust towards a third or second hook. If you notice only the furthest hook will do, then that is quite a small size. The underwire of your bra and the bridge should flush with the skin.
Select a bra that feels comfortable, non-padded, and well-fitting.
Ensure it is snug without digging into your sides. It would be best to position your nipples halfway between your shoulder and elbow. If they are pretty lower, lift by tightening the straps.
---