Do You Have Any Red Shoes? Sure You Do! Don't You? Smile a little…
From Dorthy's pair of ruby red slippers in "The Wizard of Oz" that helps her find her way home, to blood-red ballet slippers in "The Red Shoes" which forces a peasant girl to dance forever from this classic fairy tale by Hans Christian Anderson. There is no denying that there is something magical about Red Shoes. 
Red is a hot colour. Literally.
The colour red is often associated with symbols of heat. So what woman wouldn't want to be smoking hot!!! in a pair of beautiful red shoes?! To add on, red is also the colour that is often associated with intense feelings. This could include feelings of passion and love. After all, red is a colour that goes hand in hand with Valentine's day.
Therefore, any woman who's searching for a bit of romance in her life can find it while stylizing a pair of lovely red shoes. Another passionate feeling that is associated with the colour red is anger. There's no denying the fact that everyone has an person/foe that they would love to make angry. Therefore, a striking red pair of shoes is the perfect way to make any enemy "red in the face"!
Red is also the colour that is often connected to strength and being strong. So show the world just how strong you are by wearing your red shoes with pride!
Today!
Nowadays, shoes of all styles can be found in a vibrant red tone. For example, many sporting goods companies offer running shoes in the colour red. Likewise, many stylish flats come in a bright red colour which will allow any woman to stand out from the crowd when on a nice stroll.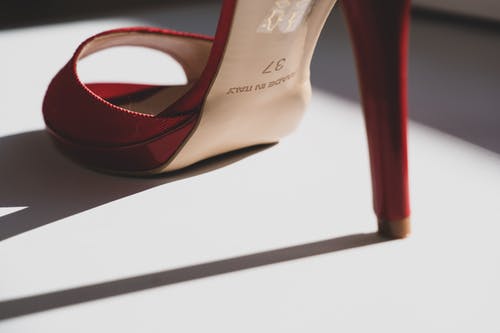 Also, any special event – It of course requires a high-end pair of red heels, to accompany any star who chooses to strut her stuff in front of a thousand cameras.
On a fashion point, red is a designer's dream colour.
This is because red can be the main colour or an accent colour. Many red shoes that are on today's market are fully and only red, which allows these shoes to shine in ALL their glory. On the other hand, red can also be perfectly suited as a complementary colour. From darker tones such as black to lighter tones such as pink, red can be added as an accent to any colour shoe to enhance the natural beauty of the overall design.
To add on… Red shoes can be a perfect match for a variety of outfits. 
Hey, I hope it's clear to see that ALL women should have a pair of red shoes in her closet. Do you have yours? On second thought… make that two pairs. Or… no… wait, hmmm- make that three pairs.
Better yet, maybe you yourself – should decide on how many flaming hot pairs of red shoes you should have in your closet!